ICESPIKE TRACTION FOR RUNNING/WALKING/HIKING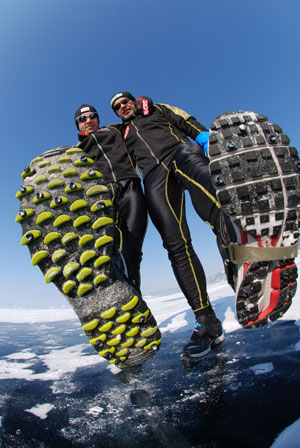 Need traction? Get ICESPIKE™ Ice Traction Spikes!
RUNNERS: ICESPIKE™ makes winter training possible through all weather conditions. Runners can begin a course on dry pavement with ICESPIKE™ installed on their shoes and remain relaxed and confident when encountering unsuspected conditions such as patches of black ice or navigate obstructions of snow or debris. Run on solid footing - no slipping or sliding!
TRAIL, ADVENTURE AND ULTRA RUNNERS: ICESPIKE™ anti-slip spikes enhance the grip of trail running shoes and ICESPIKE™ is the only traction system that can safely transition to any terrain! ICESPIKE™ is traction on ice, traction in snow and traction for running in all seasons!
WALKERS AND HIKERS: ICESPIKE™ ice cleats create traction for walking shoes and enhance the traction of hiking boots! Maintain your stride with confidence. Enjoy stability and security when the going gets rough on any terrain.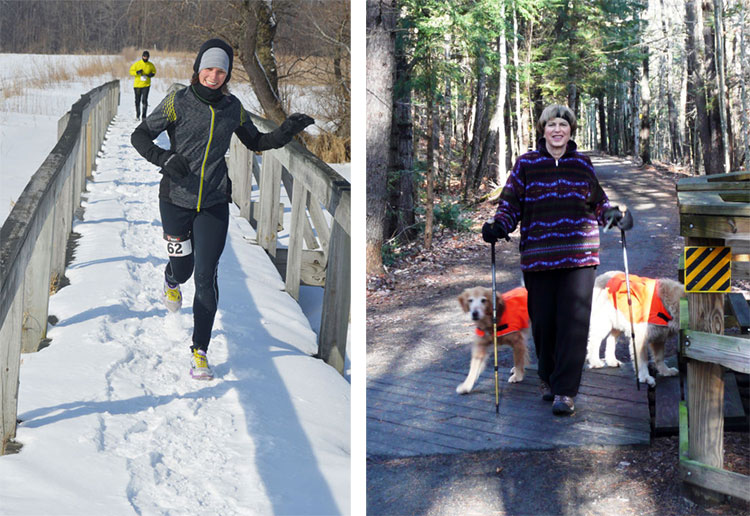 ICESPIKE™ is the only traction system that:
allows the wearer the comfort and natural feel of foot to ground interaction
is low profile, lightweight and unobtrusive
eliminates the need to alter pace or gait
prevents the muscle injury and fatigue associated with heavy strap-on spikes, coils, chains or platforms with spikes
eliminates pressure on the top of the foot or bulk underneath the shoe
ICESPIKE™ traction spikes are engineered to:
withstand extreme abuse and provide exceptional surface penetration
firmly engage the sole of the shoe which prevents loosening
promote self-cleaning of ice, snow and debris
maintain integrity of grip for up to 500 miles
ICESPIKE™ ice traction gear is not just for winter!
Get the "Icespike edge" for control and stability on all rough and inconsistent conditions:
water, mud and muck
slick rocks and loose gravel
root-bound and uneven terrain
slimy leaf debris and mossy surfaces
---
Purchase Icespike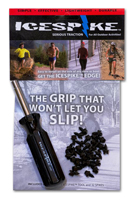 ICESPIKETM Deluxe Package
1 Precision Tool + 32 spikes
$29.99 US Dollars. With purchase of Deluxe Package, additional sets of spikes are available for $16.99 ( US Dollars) at Checkout. Buy several sets for family and friends!